Smart Cities and connected buildings offer tremendous benefits yet the question of their security is becoming increasingly crucial. The stakes are all the more important as intelligent building management systems are not limited to home automation, their reach also extends to the controls of the building safety system. In conducting a telemetry survey of 40,000 smart buildings, anti-virus firm Kasperky found that 37.8% of them had already been the target of a cyber attacks. And that was only during the first half of 2019.
Connected buildings typically combine sensors and controllers to monitor and automate the operation of various systems, such as building access, elevator, ventilation, electricity and more. Everything is centralized on a single machine, most often a simple PC connected to the Internet, and therefore as vulnerable as any personal computer. Connected buildings can be offices, houses or residential buildings, but also hospitals, shopping centers, public transport or even prisons.
Attacks are becoming more sophisticated and spreading
Attacks have been detected all over the world, with a higher rate in Western Europe, India, China, and Brazil. Kaspersky investigated the source of the attacks, revealing statistics that are similar to those for industrial systems. Nearly a quarter of intrusions come from the web, while removable drives and email software are each responsible for 10% of incidents. "Although these numbers are relatively low compared to the threat landscape, their impact should not be underestimated," said Kirill Kruglov, a cyber security researcher at Kaspersky.
Figure 1: Share of smart building systems where malware was blocked, 2018-2019
Source: Kaspersky
Kaspersky noted that most attacks do not specifically target connected buildings and infect all types of networks. Buildings can, therefore, be victims of the same problems as individuals, with spyware (11.3% of detections), computer worms (10.8%), phishing (7.8%) or the risk of see the files taken hostage by ransomware (4% of detections). Buildings are also vulnerable to other threats, which are not detectable by the security software, such as denial of service attacks.
Businesses are facing a worrying growth of cyber threats in 2019.
Cyber-attacks are becoming more sophisticated and are forcing IT professionals to equip themselves with computer security solutions and even smart automated systems that can quickly detect attacks. The best systems must also deploy strategies to guard against these cyber threats holistically equipment, training, recruitment of dedicated technical teams, etc. Considering the valuable assets out there we feel cyber threats against businesses will intensify in the future.
Increased Attack Sophistication: Multiplication of Attacks on Connected Objects
Attacks against Connected Objects (IoT) have multiplied throughout 2018, an increase of more than 200% compared to 2017. While everyone wants devices to be interconnected and connected to the Internet, strong growth in the number of weakly secured connected objects, suggests a very sharp rise in cyber attacks over the next few years.
Cyber criminals take control of connected objects in order to create large networks of Botnets to launch Denial of Service (DDoS) attacks. The United States, for the moment, is the first victim of hackers with more than 46% of global botnets from US-based IP addresses followed by China at 13%.
Protecting Yourself Proactively
Some IoT security solutions just identify problems and signal alarms. This does not alleviate the overworked IT and Security Staff dealing with the increasing threat of cyber attacks on smart buildings. At Ordr, we provide protection proactively. We see the objects and inventory the assets and then we take it a step forward with automated policy generation and automated remedial action using A.I. and machine learning. Ordr also protects a smart building before a potential attack by monitoring all device communications and detecting any anomalies and any behavior that seems unusual.
Be Proactive
The only way to protect yourself is to arm yourself with diligence.  Most cyber-attacks of this type come from human errors within an organization, such as an employee opening an infected file or downloading malicious software. For this reason, our intelligent Ordr system is here to face the sophisticated attacks by:
Detecting anomalies, preventing and isolating attack attempts, segmenting networks when necessary and diligently monitoring the flow of traffic.
What's unique is that Ordr policy becomes smarter over time and establishes policies to maintain security and order.
The bad guys can leverage A.I. We take it a step further
In some cases, hackers can use malware and try to mimic the normal behavior of a network in order to spread to more machines, while avoiding detection. Malware enriched by artificial intelligence will be able to infest much faster information systems, able to adapt their behavior according to their environment.
Traditionally, attackers maintain communications with compromised systems using command and control servers. If the malware can use artificial intelligence to autonomously determine how to mimic normal behavior while they are moving, for example by detecting and using local identifiers, attackers no longer need a command server and control, and the malware becomes much more difficult to detect.
The combination applied by Ordr's automation and artificial intelligence system is the ideal combination to streamline and strengthen a cyber security defense line against sophisticated AI attacks.
ORDR offers specific ways to in this part to face sophisticated attacks as we use machine learning to inspect and baseline the behavior of our growing catalog of devices. Our SCE automatically and continuously detects flows, learns, adapts and expands our data lake. The policy generation is what really differentiates us from the competition as we close the loop of detection, learning, policy and implementation.
Ordr's ability to learn and adapt
In the future, companies will increasingly connect IoT devices to their networks. To protect themselves and strengthen their defense, particularly as it relates to smart building attacks, we recommend enterprises to consider Ordr's proactive protection system. The platform is built from the ground up to ensure full security and automated policy generation to protect from the coming attacks on smart buildings.
Automation involves a range of skills such as process automation, test automation, security automation. Security automation is designed to reduce risks, operational errors and solve cybersecurity problems. Threats often come from abnormal use of the data. Security tasks are often prone to errors when processing large volumes of data and creating fast, reliable, and accurate solutions. The ORDR system is fast, dynamic and leverages automation and machine learning to go beyond incident reports. We do feel that the number of ransomware injected into a system by cybercriminals is exponentially greater than the threat detection measures taken by businesses.
Cyber security teams are flooded with alarms and alerts around the clock. We dont want to add to the process and instead fix things automatically. Delayed investigations can lead to devastating data breaches if there is a sub-optimal response to the detection of the threat and relying on manual intervention will not scale.
Ordr's system allows IT managers to focus on complex types of attacks as attacks become more sophisticated. Along the way ORDR policy becomes smarter and establishes policies so that a human being is not forced to do so.
Identify & Classify
Ordr Systems Control Engine (SCE) is the only purpose-built solution that fully maps every microscopic device detail and its context – the device flow genome – at massive scale, using machine learning to completely and continuously inspect and baseline the behavior of every device. Ordr detects exposed vulnerabilities and delivers intricate risk scores for priority attention and mitigation. All in real-time, all-the-time, delivered in a simple dashboard.
Discovers every device in your environment.
Tracks risk scores to focus attention on high-risk devices.
Maintains a real-time database and tracks changes.
Integrates with management and workflow tools.
Regulation
Ordr Systems Control Engine monitors and analyzes all device communications, and delivers real-time communications flow analytics. Regulate flow and behavior by device type, group, location, function, application, the control is yours. Ordr SCE automatically detects anomalous behavior including out of flow communication, unusual data and application usage, and off baseline cadence and activity. And it's real-time, so any new connected systems are immediately regulated when connected.
Analyzes all device communications 24×7.
Learns correct behaviors and creates conversation maps.
Group systems by type, location, function, application.
Anomaly detection prevents and isolates attempted attacks.
Figure 2: Connected Smart Building
Source: Ordr
Secure
The Ordr SCE architecture is unique in its ability to process enormous quantities of data in real-time, using sophisticated AI to deliver closed-loop security, automatically generating policies for each class of device. The Ordr SCE is integrated with the exisiting network and security infrastructure management tools to implement policies directly and automatically. There is no need to upgrade your network. This is truly no-touch, agent-less protection for business-critical assets.
Micro-segmentation per NIST
Access control policy generation
Full integration with existing NAC solutions
Program firewalls, wired/wireless access network
System Utilization
Ordr gives you in-depth insight into what's happening with your systems. High capital and fleet equipment needs to be used efficiently for maximum ROI. Ordr gathers detailed utilization information across the entire enterprise, giving you intelligence about detailed device usage, usage type, hours of operation, and underutilization.
Compare usage across facilities to for better distribution
Identify offline devices and bring them back into service
Understand the usage patterns and adjust schedules
Make better-informed purchasing decisions
The Ordr Systems Control Engine: Why stop at visibility?
Ordr has developed a smart system than can see everything that is connected to the network and quickly deploy policies to protect the network. The Ordr Systems Control Engine goes beyond what competitors do in that we offer behavioral profiling, flow monitoring, and integrated risk management. Instead of just "blacklisting" non compliant devices, Ordr takes it a step forward "whitelisting" connected devices, providing compliance, and true policy enforcement. Hospitals, shopping centers, public transport, and connected smart buildings will be under attack. Proactive protection is needed and with Ordr, you're in control.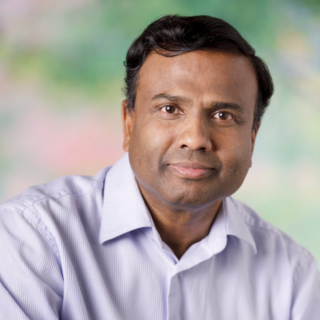 Pandian Gnanaprakasam
Pandian has more than 20 years of product and engineering leadership experience and is also a serial entrepreneur. Before founding Ordr, he was the Chief Development Officer at Aruba, responsible for all of engineering and product management functions. Aruba, an enterprise mobile wireless company, was acquired by HPE for $3 Billion in March 2015. Before Aruba, Pandian served as the head of engineering for Cisco's multi-billion-dollar Wi-Fi business unit and before that as VP of engineering for low-end switching product lines. He graduated with a master's degree in Electrical Engineering from IIT, Chennai, India and holds several patents to his credit in various networking technologies.