Twas the night before Christmas, when all through the enterprise
Not a creature was stirring, not even network or IT guys.
Proxy firewalls were humming by the perimeter with care,
Just in case intruders or hackers would dare.
The CISOs were all nestled all snug in their beds,
While visions of protected networks danced in their heads.
And the IT Staff all cozy and I in my cap,
Had just settled down for a nice well-earned nap.
When out from my iPhone, there arose such a clatter,
I sprang from the bed to see what was the matter.
Away to my computer, I flew like a flash
I typed in my password as fast as I could dash.
The screen on my dashboard it started to glow
Gave the luster to the objects below
When what to my worried eyes should appear,
But a scary demand…, oh no ransomware!
A million in bitcoin I'd have to pay quick
Or else all devices and my network will be sick
My heart started to race thinking about WannaCry
I'm just a regional hospital, attack me but why?
And then a buzz on the phone, I worried what was next.
My anxiety was relieved, Pandian had sent me a text.
As I drew in my hand, and was turning around,
Down the chimney ORDR came with a bound.
It was the team best known for proactive protection
Micro-segmentation, my network was in sections
Luckily the damage was quickly contained
Spreading is cut short and order maintained
Ordr's SCE, a closed-loop solution that's smart
Implementing policies it's a real art
Flow genome, it's about being context-aware
Asset managers and IT staff, no need for despair
When everything today is hyper-connected
It will tell you right away when the MRI is infected.
Up and running my network was clean
Relieved, my happy face started to gleam
He sprang to his sleigh, to his team gave a thumbs up,
And away they all flew like a nimble startup.
And I heard him exclaim, as he drove out of sight,
MERRY CHRISTMAS TO ALL, AND TO ALL A GOOD-NIGHT!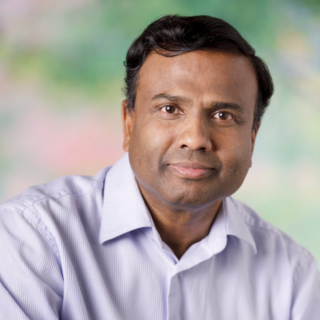 Pandian Gnanaprakasam
Pandian has more than 20 years of product and engineering leadership experience and is also a serial entrepreneur. Before founding Ordr, he was the Chief Development Officer at Aruba, responsible for all of engineering and product management functions. Aruba, an enterprise mobile wireless company, was acquired by HPE for $3 Billion in March 2015. Before Aruba, Pandian served as the head of engineering for Cisco's multi-billion-dollar Wi-Fi business unit and before that as VP of engineering for low-end switching product lines. He graduated with a master's degree in Electrical Engineering from IIT, Chennai, India and holds several patents to his credit in various networking technologies.