Cisco has been a mainstay of Silicon Valley for decades, launched in 1984 by two Stanford University computer scientists with a vision of creating technology for the "network of networks" that paved the way for interconnecting the entire world into a single seamless system as we see today. Its fortunes have ascended as its hardware became ubiquitous. Now ranked No. 63 on the Fortune 100 list, Cisco has recently eclipsed Microsoft as the world's most valuable company.
Not surprisingly, Cisco hardware has made its way into the digital infrastructures of tens of thousands of organizations over the past three-plus decades. The Cisco Catalyst 9000 Series is Cisco's flagship switching portfolio. Enterprises worldwide rely on the Cisco Cat9k to power transformative solutions, not only as part of its core capabilities but also via a variety of Cisco and partner applications hosted on the switches. Today, Ordr announces the ability of our sensor to be deployed as a hosted application on the Cat9k, which not only extends visibility and insights on connected devices to any site a Cat9k switch is deployed but also extends Zero Trust segmentation to the edge. This, together with our recent offering on the Meraki Marketplace provides every Cisco Identity Services Engine (ISE) and Software-Defined Access (SDA) customer with a seamless way to accelerate their deployments.
But before we get into the details, let's take a look at why such protections have become increasingly important in the past several years.
The Rise of Threats on Connected Devices
Many connected devices, including but not limited to IoT (Internet of Things), IoMT (Internet of Medical Things), and OT (Operational Technology) were primarily intended to communicate with each other or within a closed system. As long as the transmissions remained within the confines of a manufacturing plant, a hospital, or another facility, it was unlikely that an outsider could tap into them and cause harm.
That changed as information transmitted through connected devices evolved to provide core business functions – merging the overall IT infrastructure of an organization with its operational functions. Digital transformation has hastened this shift, potentially affecting countless devices in numerous scenarios that the term "connected devices" has been recently coined and gone mainstream. It's meant as an umbrella term for the host of connected cyber-physical systems, not just IoT, OT, but industrial control systems (ICS), industrial devices (IIoT), medical devices (IoMT), and facilities devices controlling such things as elevator and HVAC functions and everything in between.
The threats and risks these connected devices introduce are not just theoretical. The healthcare industry is among the most frequently targeted by threat actors and is heavily reliant on connected medical devices. The average hospital has an inventory of more than 3,850 IoMT devices. The attack surface is larger and more complex than most if not all other industries. Poor security and lack of visibility can have life or death consequences as digital risk expands into having a very real physical impact.
Threats have also manifested in the manufacturing sector, which has jumped from an area largely ignored by cybercriminals a few years ago to the number one target for ransomware in 2022 according to IBM Security's X-Force Threat Intelligence Index 2022. The jump is due largely to the shift to Industry 4.0, a term used to describe the increasing interconnectivity between manufacturing facilities and external information sources.
Attack surfaces have expanded not just for healthcare and manufacturing but for every organization that has embraced digital transformation including financial services, retail, government, education, public sector, and utilities. Whether it be protecting a connected camera, a patient's infusion pump, a programmable logic controller (PLC) on the manufacturing floor, or host of other critical connected devices, the need for security has never been more important.
The Cisco+Ordr Solution – Establish Trust at Point of Access
The Cisco+Ordr collaboration embraces and enables Zero Trust – a strategic approach to security that centers on the concept of minimizing the attack surface by enforcing trust from an organization's network architecture. The Zero Trust model of security prompts you to question your assumptions of trust at every access attempt. This comprehensive solution to secure all access across your applications and environment, from any user, device, and location, allowing you to mitigate, detect, and respond to risks across your entire environment.
A Zero-Trust approach:
Establishes trust in every access request, no matter where it comes from
Secures access across your applications and network
Extends trust to support a modern enterprise across the distributed network
The Building Blocks…
Using the Catalyst 9000
To address the requirements of securing connected devices, Ordr has added 2 new Cisco product integrations including its sensor technology on the Cisco Catalyst 9000 Series Switches and advanced data learning from Cisco Meraki Systems Manager to extend end-to-end visibility and security across the entire organization.
The Ordr sensor for the Catalyst 9000 allows organizations to deploy the sensor as a hosted application on the switch to scale data collection across campus environments or extend Ordr to locations where it's not possible or practical to deploy an Ordr hardware sensor – to secure devices in branch offices, smaller remote locations, and the like.
So equipped, customers know what devices are in their environment, their physical location, the essential details for each device, whether they are behaving normally, and how to secure them. Ordr gains this level of insight by continuously collecting and analyzing data from sensors as well as switches, routers, wireless controllers, firewalls, and other devices in the network. Insights from Ordr's analysis helps teams maintain an up to date device inventory, meet compliance requirements, and quickly respond to contain active threats. Ordr insights also provide context essential to defining and implementing Zero Trust policy with solutions such as Cisco ISE.
A Cisco Meraki Ecosystem Partner
Ordr now is also a Cisco Meraki Ecosystem Partner, so customers can analyze their Meraki cloud data with Ordr and gain a central, single source of truth to see, know, and secure all their connected devices. For businesses that have switched to remote workforces since the emergence of the pandemic, this is an efficient way to safeguard from potentially dangerous devices used in home offices among other locations outside of typical corporate protections.
Integration with Multiple Solutions
Ordr's close relationship with Cisco over the years means that it now integrates with multiple solutions. In addition to those previously named, Ordr integrates with Cisco TrustSec, Cisco Secure Networks Analytics (Stealthwatch), and Cisco Prime Infrastructure. Ordr also integrates with Cisco Adaptive Security Appliance (ASA) and Firepower Threat Defense (FTD) firewalls through Cisco ISE.
Ordr integrations across the Cisco portfolio help customers add the end-to-end visibility and security needed to accelerate segmentation and Zero Trust projects with CiscoISE and SDA solutions. Most importantly for organizations that are struggling with connected device security, Ordr's device classification, network awareness, security intelligence, and auto-generated enforcement rules provide context needed to simplify the process of creating, provisioning, and managing connected device segmentation policies.
Quick Deployment and Improved Security
The Ordr sensor for the Catalyst 9000 is deployed in a matter of minutes as a pre-packaged Docker container on any Catalyst 9000 switch supporting application hosting. Cisco DNA Center can be used to deploy the Ordr sensor on hundreds of Cisco Catalyst 9000 switches with a few clicks, then combined with Ordr SaaS managed service, customers gain insights and improve device security across connected devices in a matter of hours.
See-Know-Secure with Ordr+Cisco
Ordr's deep integrations across the Cisco portfolio help customers add the end-to-end visibility and context needed to protect connected devices and accelerate the deployment of Cisco ISE and SDA solutions. Ordr's device classification, network awareness, security intelligence, and ability to auto-generate enforcement rules simplify the process of creating, provisioning, and managing IoT, IoMT, and OT segmentation policy.
For more information about how Ordr can help strengthen the visibility, security, and overall management of connected devices across all your Cisco deployments, please visit www.ordr.net/partners/cisco and attend the Ordr Masterclass on May 19th.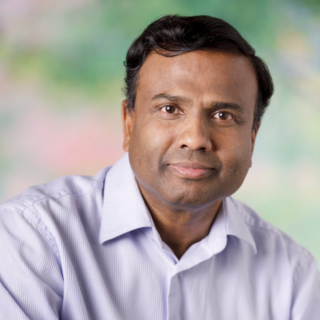 Pandian Gnanaprakasam
Pandian has more than 20 years of product and engineering leadership experience and is also a serial entrepreneur. Before founding Ordr, he was the Chief Development Officer at Aruba, responsible for all of engineering and product management functions. Aruba, an enterprise mobile wireless company, was acquired by HPE for $3 Billion in March 2015. Before Aruba, Pandian served as the head of engineering for Cisco's multi-billion-dollar Wi-Fi business unit and before that as VP of engineering for low-end switching product lines. He graduated with a master's degree in Electrical Engineering from IIT, Chennai, India and holds several patents to his credit in various networking technologies.