Today Ordr announced our Series C funding; another injection of capital that allows us to continue investing in our company and build it to last. On this occasion, I can't help but look back and reflect on a journey that began in 2015 when Sheausong Yang and I–the founding team–had a vision to build a security platform that would give organizations the ability to see and secure every connected device in their network.
Our idea was new then, and it wasn't easy getting people to understand the problem at first. Even as organizations were increasingly adding unmanaged connected devices to enterprise IT environments, there was confusion over what was classified as internet of things (IoT) or operational technology (OT). Many organizations we encountered thought we were talking about consumer technologies, like then-new smart speakers, and not the millions of medical devices, industrial controls, building management systems, and other equipment like surveillance cameras, phones, printers and vending machines that were often connecting simultaneously to enterprise networks and the public internet.
The Entrepreneur's Dream
Because an entrepreneur's journey is hard, often with ups and downs, it's important to find partners who believe in the vision, the team, and are willing to give the support needed to work things out and solve big problems. We were fortunate to find such a believer in Peter Wagner, founding partner at Wing Venture Capital. Peter believed in the Ordr founding team and our ability to design the right solution to the problem. We also trusted Peter as a partner in our journey. Dominic Orr, former president of Aruba Networks; Pankaj Patel, former executive vice president and chief development officer at Cisco Systems; Dan Warmenhoven, former CEO of NetApp; and Prakash Bhalerao, veteran chief executive and angel investor also became believers in our vision and invested in our seed round as well.
What was not well-known when we started, but something that Peter, Dominic, Pankaj, Dan, and Prakash grasped, was how difficult it was to discover and secure IoT devices in enterprise environments. In fact, it was nearly impossible. These devices were often connected and unmanaged, operating outside the view of IT management and security tools, and given the proliferation rate at which they were connecting, the problem was getting worse. A specialized security solution was needed, and so we set out to build one. At the same time, the industry needed education about the unique threats to connected devices, and we were competing for attention in the cybersecurity space with hundreds of companies, each claiming to have something new and better, even if only a few really did.
A Foundation of Data
Every strong structure starts with a solid foundation. Our approach to connected device security would be built on data and analytics. Specifically, building a massive data lake populated with the details of as many device types as possible, and using behavioral analytics to build security models for each. Achieving our vision required studying breaches to understand their characteristics and communication patterns, and continuously comparing what we learned with the typical behavior of every single device in the network. Employing behavioral analytics was the only way to monitor complex communication patterns and adapt to the ever-changing strategies of threat actors.
Artificial intelligence (AI) and machine learning (ML) require massive amounts of data to solve hard problems. Rather than rely on second-order metadata, the Ordr Data Lake would be populated with accurate, correlated device details collected directly from the source. This was no easy task. You need to have grit, and shortcuts taken at this stage will haunt you throughout the lifetime of the product. We knew once we had the data we could harness it to solve hard problems, take on the challenges ahead, and build a platform for connected device security.
Fast forward to 2022 and the Ordr Data Lake has millions of device profiles; a number that grows as new devices are released and connected to environments across the globe. To enrich our data lake with new details and insights, we do a full, real-time packet capture across our customers' environments to feed our platform with an accurate and continuous input of every connection, every flow, and every change. Analysis of that data is real-time too. It has to be. When someone asks for the current weather, it does no good to give the temperature from earlier in the day. Real-time analysis is critical in security and provides a precise assessment so accurate decisions can be made. In security, the game is rapid detection and remediation; guesswork is unacceptable.
Innovative Approaches to Problem Solving
Other key innovations have been part of the evolution of our platform. Data correlation, normalization, compression and organization is critical to storing and harnessing the massive amounts of data we collect and analyze without requiring hundreds of servers and zettabytes of disk storage. For those who are counting, one zettabyte is one billion terabytes. Thanks to our intelligent data compression, we can secure an entire large-scale hospital with just a few servers as our analytics backend. For context, the average hospital maintains an inventory of more than 100,000 total devices of which at least 10-15 thousand are in clinical care as internet of medical things (IoMT) devices, as well as IoT and OT associated with administration, communications, facilities management, and other essential functions–not to mention all the stranger things that find their way onto enterprise networks.
Behavior-based identity analytics is another key innovation for Ordr, and is used to establish multifactor authentication on agentless, unmanaged devices. Triangulation of factors such as a device's OS vulnerabilities, communication patterns across the enterprise, communications patterns to external sites, and the reputation score of destination sites, are all analyzed to minimize false-positives and ensure a high level of confidence when unique indicators of compromise (IOC) are identified.
Countless hours of hard work, determination, and creativity were behind the effort that turned our vision into a proof-of-concept, and then, a working product. From that point, our vision, the strength of our team, and the potential of our technology helped us secure Series A funding, led by Alex Doll of Ten Eleven Ventures and joined by Unusual Ventures. With Series A we were able to build our team, establish our brand, and go to market. After Series B, led by Dharmesh Thakkar of Battery Ventures, and with investments from Kaiser Permanente Ventures and Mayo Clinic, Ordr was established as a force in healthcare and positioned for expansion into other verticals, like manufacturing, financial services, smart cities, and government. At this point, we began expanding into visibility and security for every connected device. To secure any device, you need visibility into every device in the network.
Flexibility in the Face of the Unexpected
When the pandemic struck in early 2020, the strength, resilience, and flexibility of our company were put to the test. The growth of nearly every organization was impacted at this time, but our healthcare customers in particular faced tremendous challenges. We stepped up to explore new ways to deliver value with our platform. Leveraging our core discovery and analytics capabilities, our customers found value in the ability to locate existing device inventory and understand real-time device utilization.
As an example, the Ordr platform enabled customers to keep track of critical devices such as ventilators, ensuring they were deployed to maximal efficiency to deal with the surge of COVID patients. Not only did the Ordr platform keep hospitals safe during this time, it also helped them run efficiently, ensuring they could continue to deliver critical healthcare services. That built goodwill and, when the pandemic eased, our customers adopted our platform enterprise-wide and recommended us to their peers in the industry. It was a key moment for the growth of our business.
Building an Unrivaled Franchise
As the world slowly returns to some semblance of normalcy, our Series C funding sets us up for our next phase of expansion on our journey to build an unrivaled security franchise. The Ordr Data Lake is growing rapidly, and now includes millions of device profiles, helping us to discover, identify, and classify every device in a customer's environment with accurate, granular detail.
Within minutes of deploying Ordr in an environment, the data we analyze populates our UI with every connected device discovered, classifying each by manufacturer and model. Each device includes a picture for easy identification, along with a detailed description of attributes that include the device's OS, vulnerabilities, connectivity details, flow data, applications installed, and logged users. Visualization in our platform is world-class and gets raves from our customers thanks to the tremendous "design thinking" effort we put into our UI/UX to achieve excellent aesthetics in support of usability.
On top of that, we add data and insights from a wide variety of enterprise tools to enrich our analysis. With more than 70 integrations, our data lake quickly provides accurate context for the operational status, as well as security posture, of every device in an organization.
Fast, Accurate, Dynamic, Automatic
Another critical strength of the Ordr platform is its ability to identify and respond to active attacks, including zero-day threats, and enable teams to stop them quickly with automation and orchestration. To get to "zero-day" attack detection requires behavioral baselines–something that must be done within minutes–to identify unique, malicious, abnormal behaviors. Since most connected devices operate within narrow behavioral parameters, our extensive data lake allows us to detect IOCs with a high degree of speed and accuracy.
Once malicious activity is identified, we leverage our deep knowledge of each device and its exact connectivity under normal operations to dynamically generate zero trust policies to isolate any misbehaving, potentially compromised device. These policies can be reviewed by security teams and, with a single click in our UI, policies are enforced with existing security and network infrastructure. With Ordr, response times are reduced from hours or days down to minutes to stop the spread of an attack. No other connected device security solution provides a complete map of all the devices, their connectivity in the enterprise, and their flow level context in real time, 24×7. We achieved this by building interfaces with every single network infrastructure vendor out there–a daunting task indeed.
The Next Chapter
From the start, our mission has been to help organizations see, know, and secure every connected device everywhere. We continue to innovate to deliver on that mission and provide our customers and partners with the most accurate, complete, and easy to consume device knowledgebase on the planet with meticulous device classifying, profiling, and cataloging.
What's more, all of our data is available to partners through open APIs. In fact, Ordr is the only platform that has complete device intelligence that includes network and flow-level context with deep accuracy. Today, Ordr is well-positioned to be the supplier of choice of device intelligence to evolving Open XDR frameworks, providing open-source data to enable the correlation of information and delivery of the best possible service to the customers.
There are many more innovations and opportunities ahead for Ordr. With our world-class investors, dynamic board of directors, experienced management team, and passionate employees, we look ahead with laser focus to meeting the needs of our customers and helping them see, know, and secure every connected device that is critical to their business. Stay tuned, we're off to write the industry's next chapter on connected device security–and beyond.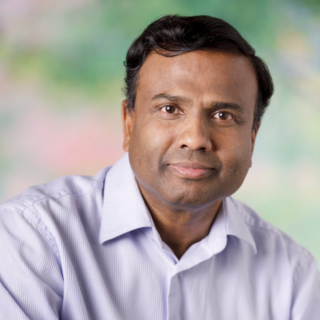 Pandian Gnanaprakasam
Pandian has more than 20 years of product and engineering leadership experience and is also a serial entrepreneur. Before founding Ordr, he was the Chief Development Officer at Aruba, responsible for all of engineering and product management functions. Aruba, an enterprise mobile wireless company, was acquired by HPE for $3 Billion in March 2015. Before Aruba, Pandian served as the head of engineering for Cisco's multi-billion-dollar Wi-Fi business unit and before that as VP of engineering for low-end switching product lines. He graduated with a master's degree in Electrical Engineering from IIT, Chennai, India and holds several patents to his credit in various networking technologies.